About
Founded in 2015, SRW provides installation and repair of roofing, siding, gutters, windows, and doors to the central Connecticut area.
More than simply completing your projects, SRW is strongly committed to helping you achieve your vision. Whether it's an upgrade to increase your curb appeal or a complete exterior renovation, SRW will make the experience straightforward and transparent. Our skilled, detail-oriented craftsmen ensure that nothing gets overlooked—we'll work with you to determine the product designs that will best fit your home's style and your budget.
About the Owner: Joe Bergeron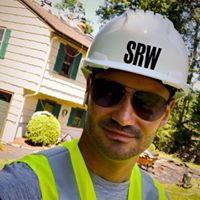 "From design to financing to the completion of your project, I will work one-on-one with you to ensure you receive the best service at an affordable price."
Joe grew up in the trades and attended E. C. Goodwin Technical High School, where he studied carpentry and general construction. He graduated with the Class of 2000 with the title "Most Likely To Succeed in the Trades."
Before founding SRW, Joe owned a 2-man siding crew, which he grew into a multi-million dollar residential and commercial home improvement company. Despite the success of this company, he found himself unhappy sitting in an office, pushing paperwork all day. Joe's true passion has always been working one-on-one with homeowners, taking their projects from start to finish. "It's truly rewarding to watch someone's home transform before your eyes," he says.
A firm believer in the benefits of modern technology, Joe enjoys using 3-D mapping, interactive design, and the ability to apply for financing in seconds throughout the process. If you're not home, he'll keep you up-to-date on your project by sending live photos and videos updates straight to your phone or e-mail.
Fully Licensed, Insured, and Certified
SRW protects every home and business we work on. We are OSHA certified as well as fully licensed and insured, including general liability and workers' compensation, as well as $2M coverage on products.
State of Connecticut License # HIC.0652416
GAF Certified Roofing Contractor
Multiple CARE Certificates from GAF's Center for the Advancement of Roofing Excellence
Certificate of Completion from the US Small Business Administration